The first time is always special. This was also true for the when first time trying out a time-trial bicycle and this was back in July 2013. Then I was still racing ITU short course, but I was super exited to try for longer bicycle rides with a tt-bicycle. I did few middle distance races during 2014 and I did enjoy those a lot, but we did not put too much emphasis on my performance development on tt-bicycle as my goals were still in the short course racing.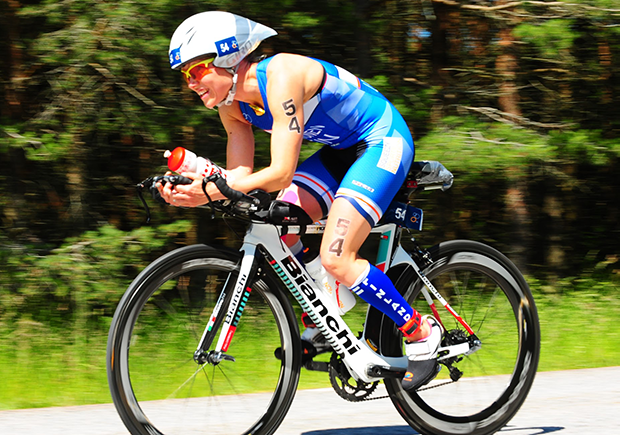 Motala Lond Distance World Championship 2015 – photo Sportograf
Year 2014 I did my fist long distance race in Weihai (China) and 2015 the first full distance (Ironman) race in Barcelona. For the latter we did some changes for the basebar and aero extensions my the then tt-bicycle. The aim was to get more stable position as I felt that I was not so relaxed as I would hope for the 180 km ride.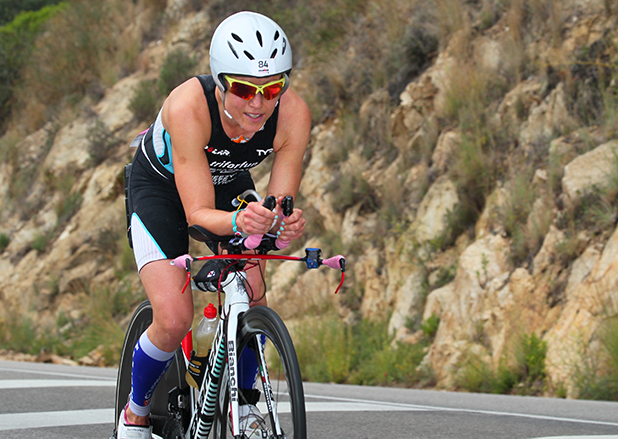 Ironman Barcelona 2015 – photo Maraton Photos
In the end of year 2015 I tested triathlon bicycles. I chose the FELT IA since it was the most correct size and I knew that it had had some great success at Kona before. As I still had not been riding a lot with tt/triathlon -bicycles we chose to keep my posture for 2016 quite conservative as I was afraid of injuries and negative impact on my run.

Ironman World Championship 2016; cycling split 5:08:45 – photo Slowtwitch.com
After Kona 2016 we started working with Ivan O'Gorman,  a cycling performance consultant. I still remember my first meeting with him at Boulder as he said he was quite surprised of my cycling performance at Kona with my the then posture/position. With Ivan we made a plan to move incrementally towards the optimal position, posture and setup for Kona 2017. Working with him has not only been extremely professional, also great fun. During spring 2017 we tested many things and somewhere in July we were satisfied with the development and decided to lock the baseline for the season. We had addressed the saddle, position and posture, also shoes and soles.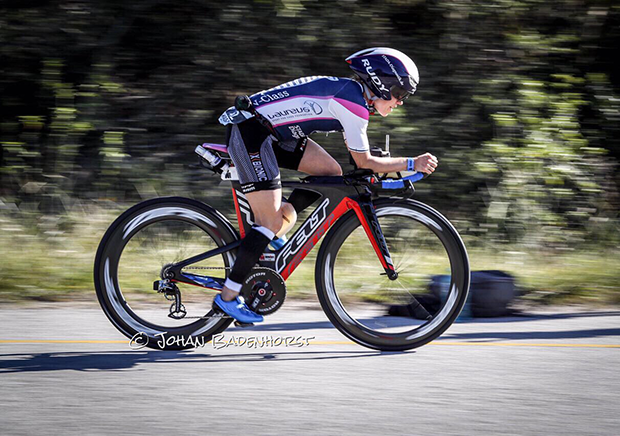 Ironman African Championship 2017 – photo Johan Badenhorst
We made some testing for the aerodynamics with the Sports Technology and Athletics Consulting Inc's (STAC) virtual wind tunnel. This gave us data that verified the hypothesis we had been working on and gave us lot of confidence to move forward with the current position and posture.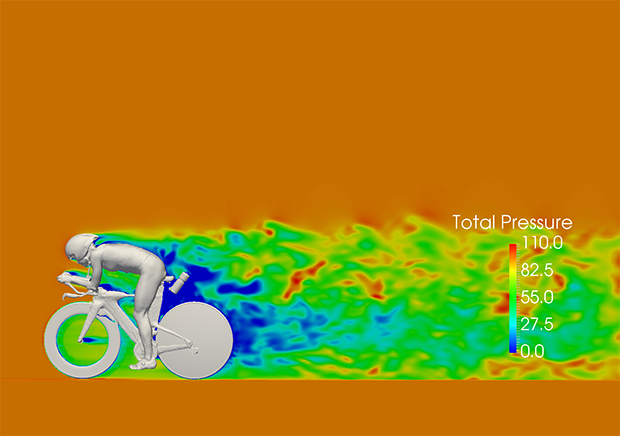 Total pressure; a measure of energy losses within the simulation domain. – photo STAC Virtual Wind Tunnel.
We decided not to make any major changes to my position or posture before before Kona 2017. We did chance the aero extensions and adjusted the shoulder pads to slight upward angle to provide even more relaxed yet powerful grip. According to modelling this should have led also to a slightly improved aerodynamics. We did also change the shoes to Giro Factor Techlace as these are very comfortable yet stiff and offer great adjustability. I had been riding these shoes in parallel with other shoes during the summer.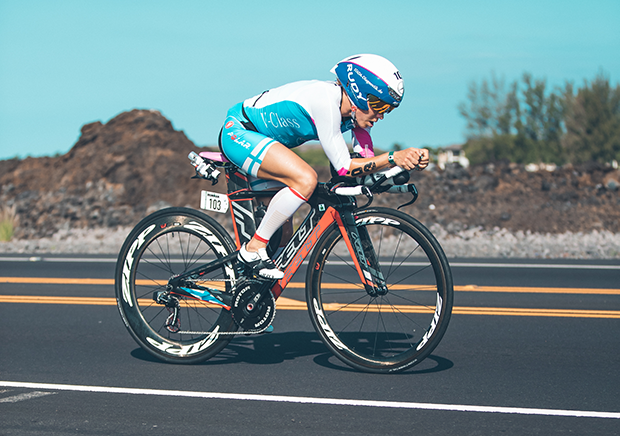 Ironman World Championship 2017; bicycle split 04:59:50 – photo Jesse Väänänen
After Kona 2017 we revised everything and made some additional analysis. The following decision were made:
– Position and posture; any major changes need to justified with reliable data
– Search for the "perfect" saddle continues
– Change the helmet
– Change the wheels for crosswinds
– For Kona 2018 finally "dressing it up" – i.e. optimize hydration, energy -, spare & tools storages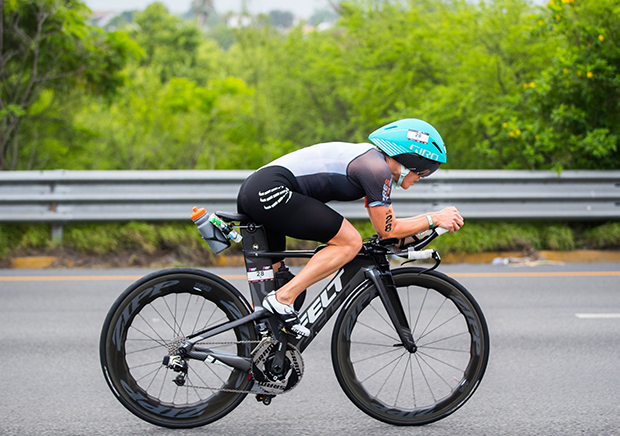 Ironman 70.3 Monterrey 2018 – photo Talbot Cox
Two of these came relatively easy. As helmet we chose Giro, either Aerohead or Vanquish. Aerohead closes the gap nicely on the neck and aligns perfectly with my upper body, which would mean improved aerodynamics. However, the main reason was the improved line of sight. The design of the visor gives great visibility and this allows to keep posture relaxed i.e. I can stay in the aero position. Vanquish being more open would offer better ventilation. Both are great options and we will make the final call based on the feedback we get from the training during the final training phase in the heat. The wheels came quite natural since I had been riding with Zipp wheels before and NSW lineup with the Sawtooth™ technology provides the aero efficiency and crosswind stability that we were looking for.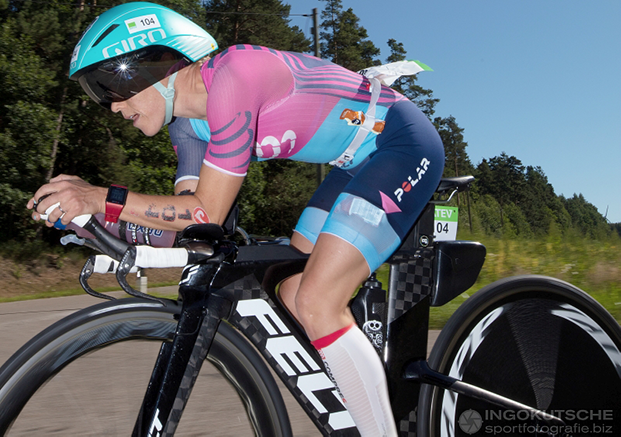 Challenge Roth – photo Ingo Kutche
Saddle has been more difficult; as we all riders are so different anatomically it is really difficult to find the "perfect" saddle. Models that have been the correct shape for me have been often too soft and vice versa. In theory, the perfect solution would be a custom made saddle, but as these are not yet very common and accessible, the process is quite complicated and especially since triathlon is not tennis, we considered that this is not optimal use of resources. On a scale from one to ten we had found a seven for a saddle and this gave us an opportunity to move forward with training and racing while keeping our eyes open for an alternative. At begging of June 2018 we found a good candidate and after carefully setting into this new saddle we have now a strong eight.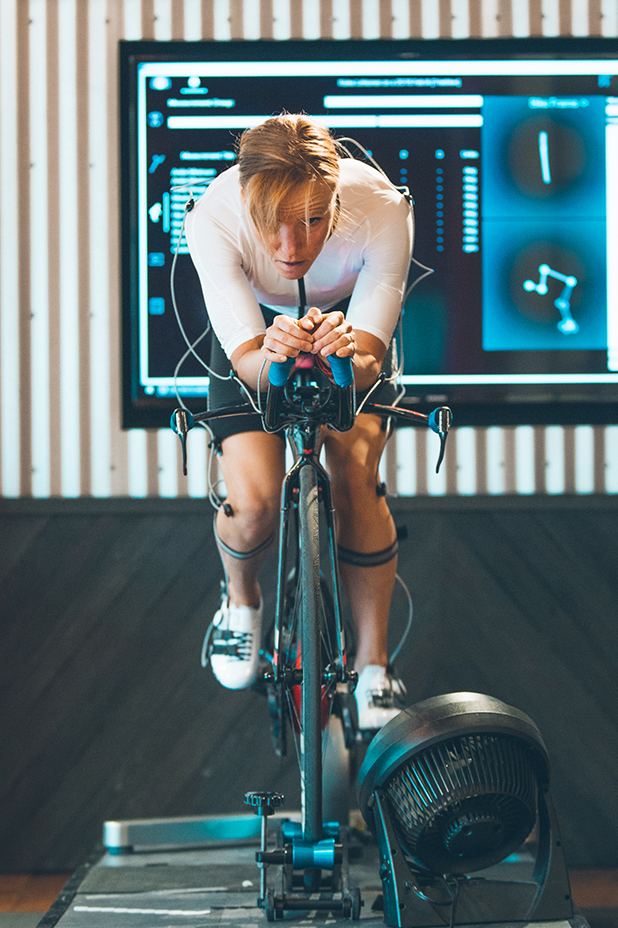 Collecting data at IOG – photo Jesse Väänänen
What we still are looking into are small details; the shape of the aero extensions, the angle for the shoulder pads, placement for the hydration bottles. We have collected all the data during the journey and always compare the possible alternatives against our baseline. One could argue that that final choices simply come from a solution to an optimisation problem; best possible sustainable power output with the lowest aerodynamic drag. However, the challenge comes in the word sustainable. Can the rider hold the aerodynamic position for over four and half hours? Can she reach the bottles and stay in aero when fuelling? How easy it is to refill / change bottles? And of course the biggest constraint of them all, how about the run at four min/km afterwards? Based on hour experience this is complex equation to be modelled and therefore the process has been based on data, expert experience and intuition. And we have followed the guideline that was established already during the last season, everything from this point forward could be just greedy.
---
Ivan O'Gorman offers bike fit services and cycling performance consulting for athletes locally and globally. Through his work with several WorldTour professional cycling teams, Pro Continental teams, USA Triathlon, Olympic triathletes and professional long-distance triathletes, Ivan has developed a vast knowledge of how to leverage bike fit and equipment to help athletes reach their highest potential. Read more at www.ivanogorman.com.
STAC the virtual wind tunnel (VWT) service, allows you to realize the performance benefits of renting a full scale wind tunnel at only a fraction of the cost. Read more at www.staczero.com
The athlete is sponsored in season 2018 by the following brands mentioned in this story; FELT, Zipp and Giro.